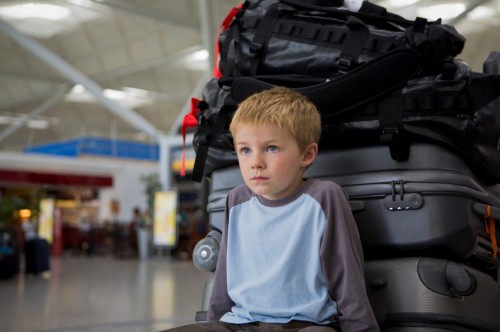 We have discussed several times in previous articles parenting aspects of how to travel with children and enjoy it. But what happens when of necessity children travel alone?
It is more common than you probably think, with an increase in the number of single parent families having custody arrangements, distancing of the extended family and homes where both parents work.
Traveling alone is not "totally" a bad idea. If it is handled properly, it can teach the child responsibility.
Nearly any historical book you read on the early american pioneers has at least one or two incidents of twelve and thirteen-year-olds actually assuming the role of "head of household" while coming across the plains. Responsibility of an appropriate nature does wonders for a child's self-esteem, self-concept and self-image.
When a child is going to travel alone, the trip should be planned very carefully, well in advance. This is even more critical when it is the first time a child has taken this route alone.
Of course, the ultimate planning would be to take the trip WITH the child first, making a concerted effort to let him/her know they would be doing it alone next, so to "pay attention" to what you do; and, to let them actually "pattern the behaviors" of asking directions, looking for the bathroom, speaking to ticket agents and stewardesses, reading maps and repeating from memory the names and addresses of your destination.
An itinerary should be made listing all times of arrivals and departures, modes of transportation ,and names addresses and phone numbers of anyone the child will be meeting in route.
This plan should be pinned, taped, or in some way attached to or carried on the child's person.
Allowing the child to be involved in the planning not only makes the trip more enjoyable for the child but increases his confidence.
The child should have a form of a carry-on briefcase or back pack that he can become very acquainted with and attached to.
It can contain, in a special pocket, his "emergency" instructions and lists as well as emergency clothes, games, puzzles, snacks, diary, and a camera.
Clothing should be comfortable and appropriate for where he is going. It might even be better to leave the new shoes at home.
Pre-addressed and stamped postcards and letters the child can fill in and mail along the way make the child feel like he has something to do and is in "control." By the way, if the child can receive a letter from you when he arrives, it does wonders for homesickness (even if you have to mail it three days before he leaves on his trip).
And also, avoid snacks that crumble or melt, night travel, over packing and please have a heart on other travelers and leave out games that beep and make a noise.
Most children like to fly. Nearly all the airlines will allow unaccompanied minor travel between ages 5 to 11 for a fee. They all have very strict regulations and policies over custody and will not release the child to anyone unless previous arrangements have been made.
Children's ears are very sensitive to changes in pressure, and the child should be taught how to "pop" his hears by chewing gum, blowing a balloon, and swallowing as the plane goes up and down.
You may have a "trial run flight" on chairs in your living room, explaining all the noises and procedures that he might experience. For example: some small movement of the wings is normal – it does not mean they are flapping; the noise the landing gear makes – does not mean the plane has hit an asteroid; and, the mild changes in air pressure – do not mean the tail has fallen off and the plane will crash.
Here are some suggestions summarized from a children's travel brochure:
Amtrak does not allow children under 8 to travel alone. Children over 8 may travel with the station master's approval in the daylight hours, but no formal arrangements are customary for either custody or train changes.
Greyhound Bus requires that the child less than 5 years old be accompanied by someone 12 years of age or older, and the child must pay full fare. Unaccompanied children from 5 – 11 years old may only travel to short destinations under 5 hours.
Continental Trailways Bus has not made formal rules but recommends that no child under 12 years of age travel alone.
Be sure to spend time teaching the child his name, home telephone number and address, and that of the adults at the destination. He should memorize them.
It is a good idea in any form of travel to teach children to take any problems to a uniformed attendant or employee. Also, teach them about theTraveler's Aid booths.
If the child will take a long trip or vacation, take him in for a physical examination prior to leaving and ask the doctor to prescribe any needed medications (including some for motion sickness if needed).
All medicines should be clearly labeled with instructions and should be carried in the carry-on bag.
As mentioned in previous articles, a "Walkman" type stereo tape player (with earphones) and specially designed travel tapes will markedly diminish boredom.