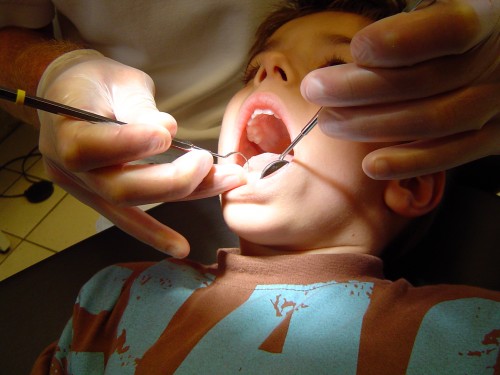 The first time a physician is faced with an unconscious patient of unknown cause, he becomes "sold" on the idea of Med Alert bracelets.
For years, most of us have encouraged diabetic patients to wear these type of bracelets or carry an I.D. card in their wallet.

If the person should have an insulin reaction and be found comatose, paramedics and physicians know exactly what type of treatment to use.
Most physicians' offices and hospitals, as well as many jewelry shops, have order blanks from the Med Alert company.
The bracelet also serves to aid individuals who are trying to help a lost child.  I.D. bracelets and necklaces are worn by many children.
Children of service men can have "dog tags" made just like daddy's.
Dental ID Of Children
Not long ago, during a camp physical, I discovered another identification method – the dental ID.
I started to comment on the fact that the child needed to see a dentist and brush his teeth better when I realized the dark spot on the tooth wasn't a cavity but seemed to have little writing on it.
The child had obtained one of the two new types of dental ID discs and had it bonded to his tooth by his dentist.
One method involves a microscopic chip manufactured by Micro I/D of Peoria, Illinois.  The information disc is bonded to a tooth and provides identifying and medical information.
The disc is 2.5 millimeters in diameter and, when properly applied by a dentist, should last from four to six years.
A dentist will etch the tooth with a chemical to provide a rough spot to affix the disc with a clear, liquid resin.
In the emergency room., the disc can be easily removed and the information read under a microscope. or it can also be read while on the tooth with a magnifying lens.
The microchip disc includes the child's name, address, birth date, telephone number, medical alert information and who to notify in case of an emergency.
It takes 10 – 15 minutes to apply and costs about $15 for two discs from the company.  The dentist will also probably charge some for the application.
The other I.D. method is similar except the clear disc is clearly imprinted with the person's social security number and then bonded to the tooth.
Emergency personnel can read the number with the naked eye and then call the 24-hour toll-free number to receive further information on the wearer.
This type of dot, produced by I.D. Dot Personal Identification Program of Hinsdale, Illinois, also costs approximately $15 for two dots, and family rates are available.
Both dots should be placed by your dentist on the buccal (cheek) side of the maxillary (upper) right first molar, or second primary molar to facilitate readability (and so doctors know where to find it!)
Dr. David Hinks, D.D.S., leader of an Ogden dental study group, tells me he has order information and a list of area dentists who apply the discs.
He indicates that the discs can be applied as soon as the first molar appears in an infant and should be replaced when a child looses his "baby teeth" in favor of permanent teeth.  They are placed so as not to be visible unless the lip is lifted.
The discs also can be used by any person, even adults with medical conditions such as diabetes, a cardiac condition, or seizure disorder.