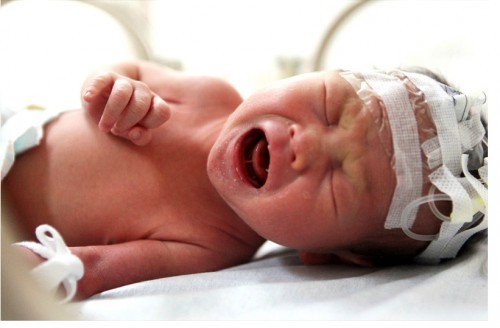 I hate that silly label. Disneyland really had nothing to do with the epidemic except doing it's job so well that thoughtless parents would rather take their sick child through the park than give up a planned vacation; WHILE at the same time children of equally thoughtless parents traversed the park unimmunized!
Infant too young to be immunized during Measles outbreak
The first might be more easily forgiven because Measles can be spread for a couple of days before the characteristic rash appears enabling the diagnosis. Before that a person merely feels 'ill'– something that thousands of diseases cause.
The second was a deliberate choice – parents who nearly always had the opportunity to have their child immunized but for whatever reason (none of it scientific based) deliberately chose to put the burden of disease control on everyone else around them. Taking the chance that 'everyone else' gets immunized so they don't have to.
The current epidemic is particularly heartbreaking because it was only in 2000 that the CDC was finally able to certify that the US had eradicated measles as an indigenous threat! Now, as of February 6 (2015) 121 cases of the same virus that produced an epidemic in the Philippines last year has inflicted mostly unimmunized children in 17 US states and Washington, DC.
Measles In Epidemic Proportions
And in case you're still sitting there wondering what all the fuss is about, an extraordinary amount of detective work on the part of the CDC revealed that 103 cases (of the 121) were ALL contracted through exposure to THAT ONE SICK CHILD in Anaheim… all the disrupted lives and quarantines and ICU bills for infants who contracted the disease.
Excepting that now (only 5 days later) it's not just 121 cases, it's even higher and there's 18 US states with the addition of Georgia who has just identified a foreign infant brought into Atlanta sick with the same measles virus that the previous child brought into Anaheim. Within the last six months, this same virus type has also emerged in 14 other countries.
The states on the CDC's measles list as of February 6 are Arizona, California, Colorado, Delaware, Illinois, Michigan, Minnesota, Nebraska, Nevada, New Jersey, New York, Oregon, Pennsylvania, South Dakota, Texas, Utah, and Washington, along with Washington, DC – and now let's add Georgia.
2014 – a record year for measles — 644 cases in 27 states!
Measles, A Parents Choice?
Not too long ago there was no "choice" regarding measles. Parents perfunctorily did family planning with eight or nine pregnancies just so they could get three or four that would survive diseases and live into adulthood. It was a rare child who didn't get measles and EVERYONE knew the disease was so bad that whole houses were quarantined.
Science identified the cause and developed the prevention. Measles largely disappeared completely in developed countries. Then a con-artist physician in England deliberately falsified research data in order to be published and obtain funding.
His falsified 'link' to autism was completely debunked for the nefarious fraud it was and he lost his license; but not before minions of entrepreneurs had developed a lucrative industry preying on conspiracy theories, paranoia and the willfully uneducated.
We've all recently read heart-wrenching stories by the parents of intensively ill children repenting too late of their decisions against immunization. More than one has stated that they used "the internet" for medical advice where "it looked like there were more against than for." What a waste!
How excessive does ones arrogance and willfulness need to be to believe that EVERY SINGLE LIGITIMATE health organization in the world and nearly every trained physician would all be lying to you when they plead that: "with few exceptions, every child should be immunized?" Or to believe that the internet is the best arbiter for the health of your child?
Measles, More Outcomes Than Disease
The cold statistics don't adequately reveal the specific pain and disruption in the lives of the 'innocents' contracting the disease. However, once they attract politicians attention there will be unintended consequences that we'll all have to live with.
The debate – even among potential presidential candidates – has already begun over an individual's right to forgo vaccination against deadly diseases and still operate with impunity amongst the populace.
legislation is being considered in a number of states which would make it more difficult for parents to exempt their school-age children from vaccination based on unproven safety concerns.
The University of California has announced that it would vaccinate all incoming students at its 10 campuses for measles, mumps, rubella, chicken pox, meningococcus, tetanus, and whooping cough beginning in 2017.
And according to Reuters news service, New Mexico's Santa Fe school district plans to bar unvaccinated students from class unless they have a legitimate state-issued waiver because of religious or medical reasons (i.e. no 'personal belief' or 'philosophical' exemptions).
… I have a feeling that this is just beginning.
[ More information on the nation's measles outbreak is available on the CDC website – and by simply doing a search for 'measles' on this web site. ]