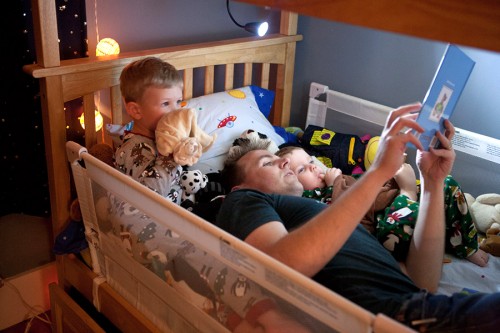 We've had articles before about bedtime rituals, including bedtime stories, which can help children sleep better, especially those with "normally wound-up" demeanors.
Bedtime stories – the single best way to improve sleep quality
And we've even posted a list of tried and true bedtime stories, that do NOT heighten anxiety or stress, which you can read as your little ones lie quietly in their nightclothes awaiting the sandman to make his rounds.
Previous postings were received well and I've had many emails suggesting other books which were favorites of children and parents. It's time now for a "holiday edition" of the bedtime story list.
Bedtime Stories for Children – Thanksgiving, Christmas and Hanukkah Edition
I've recently learned of a mother who uses bedtime stories as sort of an "advent calendar" or "12 days of Christmas" ritual. At the end of November she visits the library and obtains all the Christmas books she can; which, along with her own sizeable collection enables her to read a different book each night as the month of December progresses.
The books and stories below aren't listed in any particular order but all are those designed to be read by parents to children at bedtime.
Bedtime Stories About Thanksgiving
Thank You, Sarah: The Woman Who Saved Thanksgiving
, by Laurie Halse Anderson. This is the story of Sarah Hale and her determination to have America celebrate a day of thanks on the same day. She spent 38 years on her cause and finally succeeded when President Lincoln declared Thanksgiving as a holiday to be celebrated on the fourth Thursday of November. Ms Hale was a remarkable woman who was determined to change society for the better. She fought for playgrounds for children and education for girls.
Bedtime Stories For Christmas
Grandfather's Christmas Tree
, by Keith Strand and Thomas Locker. This is a heartwarming story of a young couple homesteading out in the Colorado wilderness and being hit by the worst winter storms in years. As they learn to depend on one another and God above, they are able to save an injured goose, give birth to their first baby, and create a story to tell for generations. The illustrations are simply beautiful.
Christmas Oranges
, by Linda Bethers. This is a story of children in an orphanage learning to share and lighten a little girl's heart.
Silent Night, Holy Night: The Story of the Christmas Truce with CD (Audio)
, by The Mormon Tabernacle Choir and Walter Cronkite. This is a story from World War One and enemy soldiers calling for a two day truce to celebrate Christmas.
A Christmas Dress For Ellen
, by Thomas S. Monson. This is a true story of a family who is down on their luck after moving to Canada and the generosity of people in Idaho sending food, clothes, books, and games to ease their poverty. Ellen has been forced to grow up before her time and the joy has been snuffed right out of her. Through the selflessness of a nearly blind postman who travels eight hours through a blizzard on Christmas Eve and the love of her family, Ellen is able to feel the power of Christmas and smile again.
Christmas Day in the Morning
, by Pearl Buck. This story tells how a boy wakes up at 2:45 a.m. to do the farm chores for his father on Christmas morning and how much joy it brings to him to give this gift to his father. The illustrations are lovely, old-fashioned and folksy.
A Cowboy Christmas: The Miracle at Lone Pine Ridge
, by Audrey Wood. This story tells how a fatherless boy answers a prompting to find his father's friend in a blizzard on Christmas Eve and saves his life.
A Christmas Like Helen's
, by Natalie Kinsey-Warnock. This book goes through Helen's life and talks about different Christmas experiences she has had. It is full of family, faith, and love and will take you back to a forgotten time when life was simpler.
The Christmas Miracle of Jonathan Toomey with CD
, by Susan Wojciechowski, P.J. Lynch, and James Earl Jones. This is a delightful story of a bitter and broken-hearted widower who slowly has his heart brought back to life by a widow and her curious, endearing little boy. The book with the CD is fabulous!
A Small Miracle
, by Peter Collington. This is a picture book without words that tells the story of an impoverished woman who restores the church's vandalized crèche and then is saved when those characters come to life to rescue her.
We Were There: A Nativity Story
, by Eve Bunting. This book has wonderful illustrations and tells the story of the lowly creatures (snake, toad, scorpion, cockroach, bat, spider, and rat) who went unnoticed, but traveled far to be present at Christ's birth. Each animal has its own rhyme and is a great read-aloud.
There Was No Snow on Christmas Eve
, by Pamela Munoz Ryan. This is a beautifully illustrated book that paints the picture of what it really would have been like in Bethlehem in the springtime of the year when Christ was born.
The Gift of the Magi
, by O. Henry. About as classic of a Christmas tale as you can get, a story about both spouses sacrificing their most treasured item to buy the other a gift for those treasured items. Pure delight! Right up there with "It's a wonderful life."
A Christmas Carol
, by Charles Dickens. What really needs to be said about this story?
This Is the Season: Beloved of the Year
, by Simon Dewey. This book tells the words to the song "This is the Season" and has lots of quotes about Christmas. The paintings by Simon Dewey are wonderful.
A Christmas Treasury for Latter-day Saint Families
, by Lloyd and Karmel Newell. This is a collection of 25 themed sections giving a different value for each of 25 days such as: Hope, Joy, Kindness, or Sharing. Each value theme has stories, poems, scriptures and songs to teach that value. May be used by persons of all faiths.
The Tale of Three Trees: A Traditional Folktale
, by Angela Elwell Hunt. This story is one from long ago that shows how God can make our plans for our life come true in ways we never imagined. Each of the three trees comes to play a part in Jesus' life, but not the way they had planned.
Sacred Songs of Christmas: A Family Treasury [With CD]
, by Nicole Wong, Paine Proffitt, and Andrea Eberbach. This book is about Christmas songs, those you've heard of and those you haven't. Comes with a CD to help you with the unfamiliar ones.
Silent Night: The Song and Its Story
, by Margaret Hodges tells the story of how this staple of Christmas was written and became famous across the world.
When Jesus Was Born in Bethlehem
, by Joseph Brickey. Each page has a gorgeous painting along with the text of Luke 2 to tell the story of Christ's birth straight from the scriptures. There are also some references from LDS scriptures but the grandeur of the book is for persons of all faiths.
Silver Packages: An Appalachian Christmas Story
, by Cynthia Rylant. This is a great story about a poor Appalachian boy who waits eagerly each year for the "Christmas Train" to bring presents to their poverty-laden town. He longs for a doctor kit, but it never comes. He receives socks and mittens and toy cars, but never the doctor kit of his dreams. Eventually he grows up and goes to medical school. Many years later he returns to his home town and tries to thank the rich man who brought the presents, but he can't because a little girl gets hurt right in front of him and he realizes his duty now is to help her…to be a doctor to her and all the town members…and how that service repays the debt to the rich man more than anything else ever can.
The Gingerbread Doll
, by Susan Tews. This story is set in the depression where porcelain dolls were "too expensive" so instead Rebecca's mother surprises her with a thick gingerbread doll named Button Marie, which she loves 'in a way you could never love anything from a store.'
Prairie Christmas
, by Elizabeth Van Steenwyk. This story is about Emma, whose mama is a midwife and gets called out to a long birth on Christmas Day. Emma is quite disappointed that her Christmas plans are disrupted, but over the course of the book she learns the real meaning of Christmas and works hard to help the new baby's siblings have a special Christmas while their mama is laboring in the other room.
One Small Lost Sheep
, by Claudia Mills. This is the touching story of a little shepherd boy in Bethlehem and how his searching for his favorite sheep brings him to the Christ child. The artwork is simply beautiful and the love for his precious Kivsa will touch any heart.
The Little Fir Tree
, by Margaret Wise Brown. In this story a nurturing father brings a live tree to his lame son each Christmas and then replants it each Spring. He does this for several years and the little tree always looks forward to his coming. One year, the father doesn't come for him and the little tree thinks he has been forgotten until the all the family and friends came to the tree with the little boy walking and leading the way.
Bedtime Stories For Hanukkah
One Candle
, by Eve Bunting. This is a beautiful story about Hannukah and a WWII observance in a concentration camp using a smuggled potato as the candle. This is a book which can be read by persons of all faiths.
One Yellow Daffodil: A Hanukkah Story
, by David A. Adler. Through the love of some neighborhood children, a sad and heartbroken elderly man from Poland is able to once again discover the beauty of Hanukkah and remember the childhood he has tried to forget.
What Are Your Favorite Bedtime Stories
What bedtime stories have you found useful in reducing stress and introducing a calm atmosphere while getting ready for bed? Comments will be turned on for this post if you'd like to share.
We'll probably re-visit this post from time to time with updates to the list. Remember, for this post we'll only be interested in stories that parents can use to help control the atmosphere surrounding sleep when they are experiencing difficulties with a child's sleep.
Advertisement by Google
(sorry, only few pages have ads)